Save time and scale your operations with high-quality training data
Data-related tasks take up about 80% of the time of a Data Scientist. Data cleaning and labeling alone consume 50% of that time. Even when these processes are outsourced, human in the loop remains time and cost-intensive. By working with our experienced annotators, you'll save time on your AI development and receive high-quality data.
Create a virtuous cycle of improvement through bias-free and accurate datasets
Human in the loop is at the heart of AI design and is the key to adress AI fairness issues, reduce biases, and obtain accurate datasets. At SmartOne, we believe in continuous learning and in inclusive recruitment. This allows us to provide a more diverse judgement pool when working on your data.
Work with a socially responsible business
Working with us helps make an impact in Madagascar by providing stable job opportunities to young malagasys from disadvantaged backgrounds. SmartOne now employs over 1,000 members of the local community, many of whom have little or no formal education.
80%
of a data scientist's valuable time is spent sourcing, cleaning, and organizing data
20%
of the time available remains to perform data science analytics
How we work
SmartOne gives you the quality insurance and the flexibility to scale your data labeling operations
At SmartOne, we believe in the value of human capital, environmental protection, and continuous learning.
By constantly training and supporting our labeling teams, we ensure the quality and integrity of the data we process. All team members are working in-house in our secure facility, which guarantees that their rights are respected and their well-being is prioritized.
Elasticity
A flexible workforce of over 1,000 managed annotators, available 24/7 in a secure production site
Communication
Constant, seamless communication with your project team.
State-of-the-art
A data-labeling workflow involving an innovative setup and launch process, proprietary set of tools and efficient team.
Expertise
Half a decade of experience in data labeling and the industry's largest track record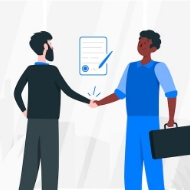 Hiring and Training
Depending on your use cases and needs, SmartOne either taps into its existing pool of experienced Smarters or identifies and onboards specific skills using it's wide academic partner networks. Each worker onboarded is then trained and tested by our HR to make sure they fit the requirements.


Security & Certifications
The security and protection of your data is a key priority. SmartOne has maintained its SOC2 Type 1 certification since March 2020 and is compliant with SOC2 Type 2, ISO 27001 and ISO 2859-1 standards.