The SmartOne PTS process
Based on 10 years of experience and one of the largest track records of the industry, the SmartOne Method, known as PTS, is the blueprint to make sure that your timing, quality, and cost objectives are met
01
PREP
We receive your detailed requirements via our website, analyze your needs and develop a customized project plan which includes workflow and budget.
02
TEST
Within 48 hours, we perform a free POC and provide a precise final workflow, quality metrics, skillset requirements and revert with an accurate quote.
03
SCALE
We hire, train and manage your project team to ensure the required accuracy, and set up an effective feedback loop between your team and ours. Our independent quality team makes sure that your dataset meets your goals.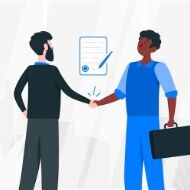 Hiring and Training
Depending on your use cases and needs, SmartOne either taps into its existing pool of experienced Smarters or identifies and onboards specific skills using it's wide academic partner networks. Each worker onboarded is then trained and tested by our HR to make sure they fit the requirements.


Security & Certifications
The security and protection of your data is a key priority.
SmartOne has maintained its SOC2 Type 1 certification since March 2020 and is compliant with SOC2 Type 2, ISO 27001 and ISO 2859-1 standards.
Driving industries into the future
Unrivaled expertise across all major industries
Since 2012, SmartOne has been successfully delivering projects for the largest players across all major industry sectors.
View Applications